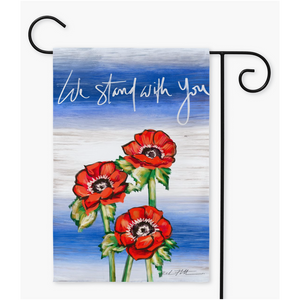 Garden Flag We Stand with Israel, yard sign Israel National Flower
Regular price
$18.90
$0.00
"Eternal Blooms of Unity: Israel's Promise 🇮🇱🌼
In the gentle breeze, let this garden flag flutter with a message of enduring solidarity for the Land of Israel. The golden petals of the national Israel symbolizing resilience and hope.
Measuring 12x18 inches, this garden flag is not just a decoration; it's a declaration of support for a nation with a heart of courage for Israel
. Whether displayed in your garden or by your doorstep, let it stand as a symbol of unwavering support and love for a land so rich in tradition and spirit.
May this flag carry your hopes, blessings, and well wishes to Israel, embracing its beauty, struggles, and triumphs. Together, we stand with Israel, where hope and resilience blossom in harmony.
From our garden to Israel's heart, we stand united, always. 🇮🇱💚🌼"
---
Share this Product
---